Mexico
Muxbal
---
Roasting
Moka/Espresso and filter
A coffee grown on the Mexican highlands, for a cup with a good body and a marked sweetness, certified by the Rainforrest Alliance RFA.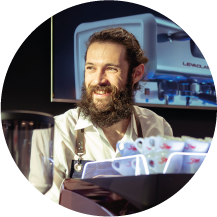 Who roasts our coffees?
Rob The Roaster, the Italian-Dutch trainer of Espresso Academy and SCA authorized, roasts your coffee. A great explorer of coffee, its processing methods, roasting profiles and the whole world who lives behind a cup of coffee.
Would you like
to contact Rob The Roaster
for more information on coffees and roasting profiles? Write to him at
[email protected]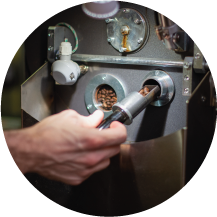 When do we roast?
Rob roasts your coffee on Tuesdays and Fridays, following the orders arrived. If roasted for espresso, the coffees are then subjected to degassing for 2-4 days, depending on the season and the variety of coffee.
Origin: Tapachula
Finca: Muxbal
Growth altitude: 1560 mt a.s.l.
Variety: Bourbon, Catuai Caturra, Mundo Nuovo
Processing method: Washed
Certifications: Specialty Coffe and Rainforrest Alliance
Cupping score: 83 points SCA
Everything you want to know
---
In the local dialect, Muxbal means "place surrounded by clouds". The name chosen for this truly unique farm that stands proudly on the slopes of the active Tacana volcano, could not be more adequate.
The farm is run by mother and son, Maeggi Rodriguez and Jorge Gallardo and was bought in 1959 by Maeggi's father, Don Enrique, a pioneer of his time who introduced three key principles within the Finca Muxbal that remain as important today as the they were then: social responsibility, environmental sustainability and the production of top quality coffee.
The extraordinarily complex quality of this coffee is also given to the altitude of 1,600 meters above sea level, the rich and fertile volcanic soils and the meticulous care and attention that Maeggi and Jorge take in all aspects of harvesting and processing.
This coffee is made from Bourbon, Catuai Caturra, Mundo Nuovo varieties and is processed with the washed method. It's also Rainforrest Alliance RFA certified.
A very balanced cup of coffee, with good sweetness, a soft body and notes of malt, chocolate and caramel. This microlot received 83 points by the SCA protocol.