El Salvador
La Esperanza
---
Roasting
Moka/Espresso and filter
Aromatic notes
APRICOT
PINEAPPLE
MILK CHOCOLATE
A coffee micro-lot grown on the volcanic soils of the Santa Ana region in El Salvador, certified by the International Women's Coffee Alliance.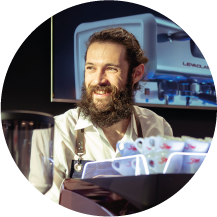 Who roasts our coffees?
Rob The Roaster, the Italian-Dutch trainer of Espresso Academy and SCA authorized, roasts your coffee. A great explorer of coffee, its processing methods, roasting profiles and the whole world who lives behind a cup of coffee.
Would you like
to contact Rob The Roaster
for more information on coffees and roasting profiles? Write to him at
[email protected]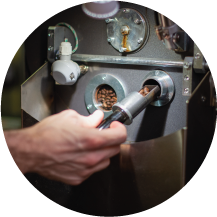 When do we roast?
Rob roasts your coffee on Tuesdays and Fridays, following the orders arrived. If roasted for espresso, the coffees are then subjected to degassing for 2-4 days, depending on the season and the variety of coffee.
Origin: Santa Ana Volcano
Finca: Volcano Selection
Growth altitude: 1.400-1.700 mt a.s.l.
Variety: Red Bourbon, Pacas, Pacamara
Processing method: Washed
Certifications: International Women Coffee Alliance
Cupping score: 84,5
Everything you want to know
---
Finca la Esperanza extends for 88 hectares on the breathtaking views of the slopes of the Santa Ana Volcano in El Salvador. Coffee plants of the Red Bourbon, Pacas and Pacamara varieties grow in the shade of Ingas, Eucalyptus, Cedar and other native tall trees.
The Finca extends from 1000mt. s.l.m. up to 1600 meters of the "La Cima" plateau where there are 10 hectares of wild forest that have remained completely uncontaminated, a reserve for botanical and faunal varieties, that contributes to the biodiversity of the region.
The Pacas family, owner of the Finca since 2010, is involved in many projects related to the environmental and economic sustainability of coffee production and this coffee is certified by the International Women Coffee Alliance.
Caffèlab is amongst the founding companies of the International Women's Coffee Alliance in Italy. The IWCA objective is to grow awareness for women who work in the coffee industry, especially in producing countries. In a still very male predominant sector as is the one of coffee, we ensure that women are treated with the utmost respect and paid regular wages, guaranteeing a good life standard for themselves and their families.  Visit the website of IWCA Italy for more details about all our activities.
After the selective harvest the beans are processed with the washed method, this coffee has sweet and fruity aromas, with notes of apricot and pineapple, and a creamy body. The slight acidity and the good persistence of milk chocolate make this coffee very balanced and pleasant.
This coffee received 84,5 points by the SCA (Specialty Coffee Association) protocol.