Costarica
Entre Rios
---
Roasting
Moka/Espresso and filter
Aromatic notes
CITRUS FRUITS
CHERRY
CARAMEL
From the lush volcanic hills of Costa Rica, an elegant specialty coffee that is environmentally and socially sustainable and certified by the Rainforest Alliance.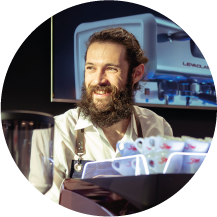 Who roasts our coffees?
Rob The Roaster, the Italian-Dutch trainer of Espresso Academy and SCA authorized, roasts your coffee. A great explorer of coffee, its processing methods, roasting profiles and the whole world who lives behind a cup of coffee.
Would you like
to contact Rob The Roaster
for more information on coffees and roasting profiles? Write to him at
[email protected]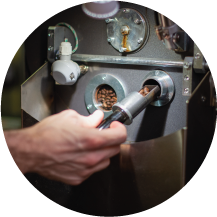 When do we roast?
Rob roasts your coffee on Tuesdays and Fridays, following the orders arrived. If roasted for espresso, the coffees are then subjected to degassing for 2-4 days, depending on the season and the variety of coffee.
Origin: Aquiares, Turrialba
Finca: Aquiares Estate
Growth altitude: 1.100-1.400 mt. s.l.m.
Variety: Obata, Marsellesa
Processing method: Washed
Certifications: Rainforest Alliance
Cupping score: 85,75
Everything you want to know
---
Aquiares Estate
Aquiares Estate is located on the fertile slopes of the Turrialba Volcano in Costa Rica. For over a century it has been producing high quality Arabica coffee with an eye on environmental and social sustainability, supporting a community of about 1800 people.
Founded in 1890 by British farmers, in 1971 it was bought by its current owners who made it a model of sustainable agriculture. Of the 924 hectares, 80% are dedicated to the cultivation of Arabica coffee, grown in the shade of other plants.
The name Aquiares in the indigenous language means "land between rivers". The coffee plantations are in fact integrated between countless streams and rivers, protected by wooden areas that make it an ideal habitat for animals, birds and other local plants.
Aquiares Estate manages the entire coffee supply chain, from the production of seedlings to harvesting and selection. This guarantees the highest standards of quality and traceability.
Don Alfonso
This batch of "Don Alfonso" coffee represents the best of the Aquiares harvest and bears the name of Don Alfonso Robelo, patriarch of one of the families who own the estate.
As a true visionary, Don Alfonso started a project in 1992 to allow farmers to become owners of their own homes. A city community has been created around Aquiares which now has its own school, a youth sports program, a waste recycling center, an early childhood center and a church considered a national historic monument.
The botanical varieties
This lot is made up of the Marsellesa and Obata botanical varieties. Marsellesa is a hybrid between Sarchimor and Caturra sought after for its quality in the cup and for its resistance to leaf rust. Obata is a Sarchimor (cross between Timor Hybrid and Villa Sarchi).
Experiments conducted by Aquiares have shown that the two varieties have very similar taste profiles, which is why they were mixed during processing.
Harvesting and processing
To ensure high quality, all the harvest is done by hand. Micro lots like this are collected by a special team of expert pickers who are paid well above average for their ability to harvest only the ripest fruit. The harvested cherries are transferred to the Acquiares processing station on the same day as the harvest. First they are selected for their density in water tanks where all the "floaters" are removed. They are then pulped and sent to fermentation tanks for at least 6 hours.
Finally, the coffee is dried in mechanical dryers at a constant temperature of 45 °- 55 ° C.
After resting for about a month in large silos, the coffee beans are deprived of the parchment and selected for size, weight, density and color before being packaged for export.
Sustainability
The Aquiares Estate is one of the leading environmental and sustainable coffee estates.
From a social point of view, the workers of the Aquiares Estate are guaranteed one of the most advanced working standards in Central America. Those who come from far for the harvest, can stay in houses that are made available for the workers while also being able to send their children to a kindergarten. Doctor visits are scheduled twice a week for the collectors where also nutritional advice is provided.
The Aquiares Estate is a real example of sustainable agriculture. In fact, they have planted more than 50.000 shade trees, created nature reserves around streams and water sources. Also the preservation of river valleys and forests through an advanced integrated pest management system make Aquiares a real example of sustainability and eco-friendly practices.
To preserve the health of the volcanic soil, the organic matter from coffee pruning and other trees is left over to feed soil microbes and provide organic nutrients to plants. There are more than 40 species of shade trees within the plantation which allow to develop the aromatic complexity of the coffee beans in the best possible way, by slowing down the maturation of coffee.
This rigorous environmental management enabled Aquiares to obtain the Rainforest Alliance certification in 2003. In 2012 it became the first Costa Rican plantation to meet the requirements of the R.A Climate Module regarding greenhouse gas emissions.
In the cup we find citrus and red fruit notes which remind us of ripe cherries. The acidity is medium and well balanced by an intense sweetness. The body is light and silky with a pleasant caramel aftertaste.
When tasted according to the SCA protocol, this unique lot obtained a score of 85.75 points.