India
Microlot Ratnagiri
---
Roasting
Moka/Espresso and filter
Aromatic notes
LEMON TEA
SPICES
PINEAPPLE
A specialty microlot from India, grown in the shade of silver oak trees and processed with an experimental anaerobic fermentation.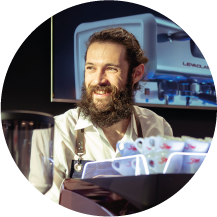 Who roasts our coffees?
Rob The Roaster, the Italian-Dutch trainer of Espresso Academy and SCA authorized, roasts your coffee. A great explorer of coffee, its processing methods, roasting profiles and the whole world who lives behind a cup of coffee.
Would you like
to contact Rob The Roaster
for more information on coffees and roasting profiles? Write to him at
[email protected]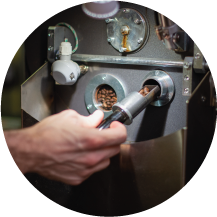 When do we roast?
Rob roasts your coffee on Tuesdays and Fridays, following the orders arrived. If roasted for espresso, the coffees are then subjected to degassing for 2-4 days, depending on the season and the variety of coffee.
Origin: Bababundangiri
Finca: Ratnagiri Estate
Growth altitude: 1280-1417 mt a.s.l.
Variety: Cavery
Processing method: Extended Fermentation
Certifications: Specialty Coffee e Rainforest Alliance
Cupping score: 86,50
Everything you want to know
---
Ratnagiri Estate is located on the heights of the West Ghati region. The name Ratnagiri, translated into English, means "Pearl Mountain" and it refers to the silver oak plants that dominate the plantation and which provide natural shading for the coffee plants.
Owned by the Patre family since 1920, today Ashok represents the third generation. Ratnagiri Estate is in effect an organic and biodynamic company and is also officially certified as Rainforest Alliance. The plantation is located within a lush, shady environment and houses 48 animal species. Among these, we find birds, monkeys, leopards, wild boars, tigers, and elephants. This rich biodiversity is fueled thanks to the approach that Ashok and his family have towards agriculture. In fact, they focus on the importance of ecology and harmony with the environment.
The lot of coffee we have selected is of the Cavery variety and is processed with anaerobic fermentation. In fact, the ripe drupes are first cleaned of foreign bodies and passed through a siphon to remove any immature grains (floaters). Then they will be stripped and then placed in stainless steel tanks for the fermentation phase. These tanks are filled with carbon dioxide until reaching a pressure of 1.5kg / cm2. After a 49-hour fermentation, the parchment grains are then washed and slowly dried on raised shaded beds for 21 days.
In the cup, we find aromatic notes reminiscent of black tea with lemon and spices. A good body and a pleasant sweetness are well balanced by a fruity acidity reminiscent of pineapple.
This coffee received a score of 86.50 with the SCA cupping protocol