Halloween coffee
Vampire Kiss Coffee
---
Roasting
Moka/Espresso
Aromatic notes
YELLOW PUMPKIN
CARAMEL
CINNAMON
CARDAMOM
Aroma
Body
Sweetness
Who has tasted this coffee, felt like drinking a real magic potion! It is certainly a special coffee in every sense: with spicy and caramelized aromas, typical of October 31st, created with some of the best traceable Farm Coffees and certified by the Women Coffee Project!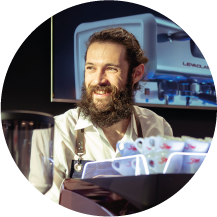 Who roasts our coffees?
Rob The Roaster, the Italian-Dutch trainer of Espresso Academy and SCA authorized, roasts your coffee. A great explorer of coffee, its processing methods, roasting profiles and the whole world who lives behind a cup of coffee.
Would you like
to contact Rob The Roaster
for more information on coffees and roasting profiles? Write to him at
[email protected]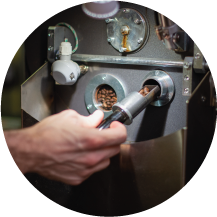 When do we roast?
Rob roasts your coffee on Tuesdays and Fridays, following the orders arrived. If roasted for espresso, the coffees are then subjected to degassing for 2-4 days, depending on the season and the variety of coffee.
Everything you want to know
---
Halloween is here! Are you ready to discover this scary and delicious coffee?
The recipe is always the same: few, but good. In fact, we have chosen only three carefully selected and different Arabica coffees to create this Specialty and traceable blend. These are exceptionally unique coffees that bring caramel and spicy aromas to the cup. The limited edition "Vampire kiss coffee" blend is only available at this time of year.
Vampire kiss coffee is a Women Coffee Project certified blend.
- Peru Pachamama: grown in permaculture, washed
- Brazil Rodomunho: 88 SCA points, natural
- India Microlot Ratnagiri: carbonic maceration of the fruits, Red Honey
A coffee with exceptionally spicy and balanced aromatic notes, with aromas of yellow pumpkin, caramel, cinnamon and cardamom. An enveloping autumn and especially Halloween scent will flood your palate.
Trick or treat? This Halloween coffee blend is designed for espresso, and also excellent extracted in moka pot.
INTERNATIONAL WOMEN COFFEE ALLIANCE
Caffèlab is one of the founding companies of the International Women's Coffee Alliance in Italy. IWCA's goal is to raise the awareness of women working in the coffee industry, particularly in producing countries. In a still male-dominated sector such as coffee, we ensure that women are treated with the utmost respect and paid regularly, guaranteeing themselves and their families a good standard of living. Visit the IWCA Italy website for more details on all our activities.