Cold Lab
Coffee for Cold Brew
---
Roasting
Filter
Aromatic notes
CITRUS FRUITS
WHITE PEACH
GREEN TEA
Aroma
Body
Sweetness
Are you a coffee lover but the idea of having a hot drink scares you? Don't worry, with our new Cold Lab coffee blend you can continue drinking your coffee , but cold!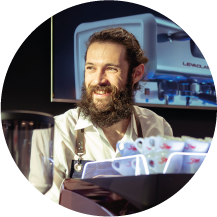 Who roasts our coffees?
Rob The Roaster, the Italian-Dutch trainer of Espresso Academy and SCA authorized, roasts your coffee. A great explorer of coffee, its processing methods, roasting profiles and the whole world who lives behind a cup of coffee.
Would you like
to contact Rob The Roaster
for more information on coffees and roasting profiles? Write to him at
[email protected]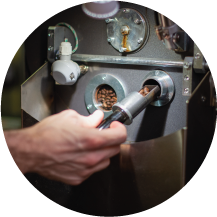 When do we roast?
Rob roasts your coffee on Tuesdays and Fridays, following the orders arrived. If roasted for espresso, the coffees are then subjected to degassing for 2-4 days, depending on the season and the variety of coffee.
Everything you want to know
---
Cold Lab: coffee for Cold Brew
This coffee is able to give you a moment of freshness and lightness thanks to the cold infusion of coffee. A fresh and silky taste, perfect for your summer days and evenings.
To create this Specialty blend for Cold Brew we have selected three different Arabica farm coffees. The union of this 3 coffees give the cup everything that reminds the summer with its fresh and citrus aromas. Cold Lab is a limited edition coffee blend.
- COSTA RICA Entre Rios: processed with the washed method, Rainforest Alliance certified
- ETHIOPIA Bona Ayele: processed with the washed method, Heirloom variety
- CHINA Meng Meng: processed with the natural method, double fermentation
This coffee blend is perfect for any time of day: in the morning, mixed with milk for a super awakening. After meals, for a drink or a refreshing aperitif.
A coffee with exceptionally fresh and summer aromatic notes, with aromas of citrus, white peach and green tea. A summer scent on your palate.
A coffee blend designed for cold extraction!