Rwanda
Nova Cafe Des Mamas
---
Roasting
Moka/Espresso and filter
Aromatic notes
CHOCOLATE
CITRUS FRUITS
BLACK TEA
Round pearl beans, grown by women in Rwanda, with an intense aroma, Women Coffee Project certified.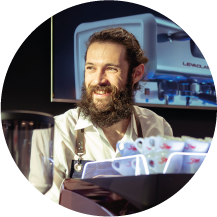 Who roasts our coffees?
Rob The Roaster, the Italian-Dutch trainer of Espresso Academy and SCA authorized, roasts your coffee. A great explorer of coffee, its processing methods, roasting profiles and the whole world who lives behind a cup of coffee.
Would you like
to contact Rob The Roaster
for more information on coffees and roasting profiles? Write to him at
[email protected]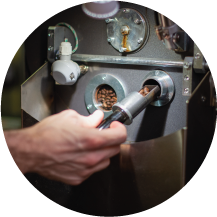 When do we roast?
Rob roasts your coffee on Tuesdays and Fridays, following the orders arrived. If roasted for espresso, the coffees are then subjected to degassing for 2-4 days, depending on the season and the variety of coffee.
Origin: Northern Provinc
Finca: Gicumbi District
Growth altitude: 1450-1500 mt a.s.l.
Variety: Red Bourbon, Peaberry
Processing method: Washed
Certifications: Specialty Coffee, Women Coffee Project
Cupping score: 84 points SCA
Everything you want to know
---
Usually in a drupe there are two coffee beans with one convex- and one flat side. In some cases, however, only one round bean develops inside the drupe, a real "pearl bean" with a very intense aroma, called Peaberry.
This batch of coffee is grown in the volcanic mountains of the northern province of Rwanda, where the growing conditions of the plant are ideal thanks to the high altitudes, the excellent soil and a favorable climate.
The Nova Coffee project is proudly carried out by Rwandan women who manually select the coffee beans and thoroughly process them with the washed method.
Rwanda Nova Cafe des Mamas is a coffee with aromatic notes of black tea and chocolate, with a clear citrus acidity, good sweetness and a light and elegant body.
This lot was awarded 84 points according to the SCA cupping protocol.