Peru
Pachamama
---
Roasting
Moka/Espresso and filter
Aromatic notes
COCOA POWDER
VANILLA
STRAWBERRIES
From the Peruvian Amazon rainforest, this coffee is grown, harvested, and processed exclusively by female hands following the sustainability principles of permaculture.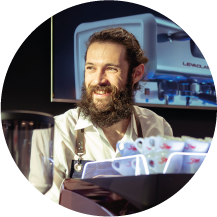 Who roasts our coffees?
Rob The Roaster, the Italian-Dutch trainer of Espresso Academy and SCA authorized, roasts your coffee. A great explorer of coffee, its processing methods, roasting profiles and the whole world who lives behind a cup of coffee.
Would you like
to contact Rob The Roaster
for more information on coffees and roasting profiles? Write to him at
[email protected]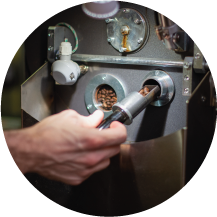 When do we roast?
Rob roasts your coffee on Tuesdays and Fridays, following the orders arrived. If roasted for espresso, the coffees are then subjected to degassing for 2-4 days, depending on the season and the variety of coffee.
Origin: Yanesha indigenous community of Tsachopen, Oxapampa
Finca: 9 different microlots
Growth altitude: 1.890 - 2.000mt a.s.l.
Variety: Costarica95, Red e Yellow Caturra, Catuai, Typica
Processing method: Washed
Certifications: Permaculture
Cupping score: 86
Everything you want to know
---
Permaculture
With the new coffee Peru Pachamama, we continue the partnership with 7 Elements, a fantastic social and environmental project developed in the Oxapampa region, in the heart of the Peruvian Amazon rainforest. To support the Yanesha indigenous community, 7 Elements promotes sustainable cultivation according to permaculture techniques that provide agroecological management without any type of pesticide, herbicide or chemical fertilizers.
Women Coffee
The "Pachamama" lot that we have selected from the new harvest is a "Women Project" lot, in fact, these beans have been grown, harvested, and processed exclusively by female hands. The name Pachamama means, in the Quechua language, "Mother Earth". She is a deity revered by the Incas and by other people inhabiting the Andean plateau, such as the Aymara and Quechua. She is the great mother goddess, goddess of the earth, agriculture, and fertility.
Pachamama is made up of 9 different micro-lots, grown between 1890 and 2000mt of altitude by 9 women of the 7 Elements project: such as Edith Pena, Mary Montejo, and Petronila Lale, Milagros Ortiz, Irma, Lilis, Sandra, and Marianella.
Processing
After a selective manual harvesting, the red and yellow varieties Caturra, Typica, Catuai, and Costarica95, go through a first selection in floating tanks to remove most of the defects.
After having been de-pulped, the grains are transferred to plastic barrels where the aerobic fermentation takes place for about 18 hours until the right pH is reached. The beans are then washed manually and moved to solar dryers where a further selection of any defects takes place. Once the perfect degree of humidity has been reached, the beans are selected with densiometric and laser instruments, protected in grain pro and jute bags for export.
Taste
In the cup, Pachamama looks like a coffee with exceptional sweetness, balanced citrus acidity, good body and aromatic notes of cocoa, vanilla and ripe strawberries.
When tasted according to the SCA protocol, this unique lot obtained a score of 86 points.