Ethiopia
Bona Ayele
---
Roasting
Moka/Espresso and filter
Aromatic notes
WHITE GRAPES
ORANGE
PEACH
A fruity and floral coffee carefully cultivated by Ayele Tulu in his small plantation in the Ethiopian highlands of the Sidamo region.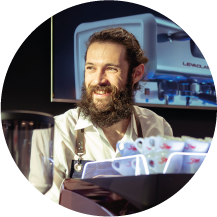 Who roasts our coffees?
Rob The Roaster, the Italian-Dutch trainer of Espresso Academy and SCA authorized, roasts your coffee. A great explorer of coffee, its processing methods, roasting profiles and the whole world who lives behind a cup of coffee.
Would you like
to contact Rob The Roaster
for more information on coffees and roasting profiles? Write to him at
[email protected]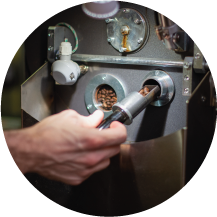 When do we roast?
Rob roasts your coffee on Tuesdays and Fridays, following the orders arrived. If roasted for espresso, the coffees are then subjected to degassing for 2-4 days, depending on the season and the variety of coffee.
Origin: Sidamo
Finca: Bona Zuria
Growth altitude: 2190 mt a.s.l.
Variety: Heirloom
Processing method: Washed
Certifications: Specialty Coffee
Cupping score: 87 points
Everything you want to know
---
Ayele Tulu owns 5 hectares of land dedicated mostly to the cultivation of coffee, in the Sidamo region, at almost 2200 meters above sea level. He has worked as a coffee farmer since he was a child. In 2014 he bought his lot and built a green coffee processing station. Since then, he has actively participated in the meetings and courses provided by the local producer communities.
Tsegab, his eldest son, collaborates in the renewal of the plantation year after year, increasing its production capacity. They have selected native varieties that are resistant even to prolonged droughts without sacrificing the great aromaticity of the cup.
This batch was processed with the washed method and after fermentation in the tank it is dried for 18 days on african beds.
This coffee has sweets fruity and floral aromas, a medium body, and a balanced fine acidity with notes of Orange, White Grapes and Yellow Peaches. 
This coffee received 87 points by the SCA (Specialty Coffee Association) protocol.